Would you like to be a Ranger? We wrote up this silly post below to explain Rangering a bit.
Please read it to familiarize yourself with what being a Ranger entails.
----------------------------------------------------------------------------------------------
The Hitchhiker's Guide to Rangering:
Far out in the uncharted backwaters of the unfashionable end of the western spiral arm of the Galaxy lies a small unregarded yellow sun.

Orbiting this at a distance of roughly ninety-two million miles is an utterly insignificant little blue green planet whose ape-descended life forms are so amazingly primitive that they still think digital watches are a pretty neat idea.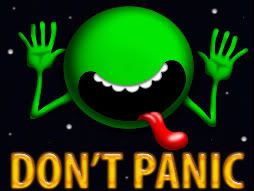 It's an important and popular fact that things are not always what they seem. For instance, Ranger duty isn't nearly as scary as one may anticipate. To illustrate this, we have created this sparkly guide to assist you in your journey through Rangerdom.
The Hitchhiker's Guide to Rangering is a wholly remarkable post. More popular, certainly more successful than the Celestial Home Care Omnibus, better selling than Fifty-Three More Things to do in Zero Gravity, and more controversial than Oolon Colluphid's trilogy of philosophical blockbusters Where God Went Wrong, Some More of God's Greatest Mistakes and Who is this God Person Anyway?
Sorry.
Thank you for volunteering for Ranger duty.
We are contacting you because your time to serve is approaching.
Before accepting this position, we ask that you familiarize yourself with what this entails.
As a Ranger, you will be using our board software (phpBB). This software is used (among other things) to change ranks, split threads, lock threads, move threads, set forum permissions, and edit member details at their request. You will also be asked to keep threads edited to stay up to date (for example, the
Ranger Pool
, the
Jury Pool
, passwords for emails and Administrator accounts, etc.). Members contact Rangers through Private Messages and email. Therefore, we also ask that you check the email accounts (both the gmail and yahoo accounts) and Administrator ID periodically. We ask that you keep the other Rangers informed in the
Touching Base with One Another
thread in Forum Management.
It happens rarely, but it is possible that you will be asked to submit problem tickets to mxhub (our server) in case of technical difficulties. If you need assistance with this, Alatar and Jude are our resident tech guys. PM either of them for help, or post in the
Technical Questions
thread in the Business Room.
Generally, there are 5 rangers serving at any one time, with staggered terms. All of us have lives away from this board and are not always available. However, to be fair to the Rangers that you are working with, it is important that you do your best to be present and work as part of the team. If you know there are periods of time that you will be away from the board, please alert the other Rangers. If you feel there will be
long
periods of time that you will need to be away, you may want to consider asking for a replacement. This is no bad reflection on anyone, as we understand that this is a voluntary service to a messageboard and real life takes priority. Please keep in mind that the Ranger Pool is often fairly thin and we are always in need of volunteers, so do your best to fulfill your term in its entirety.
To further assist you, it is recommended that you read the
The Ranger Handbook
and
How To Be A Ranger
thread in Forum Management.
In the beginning the universe was created. This made a lot of people angry and has widely been considered as a bad move.